The Return of the Gods and the crisis of European Modernity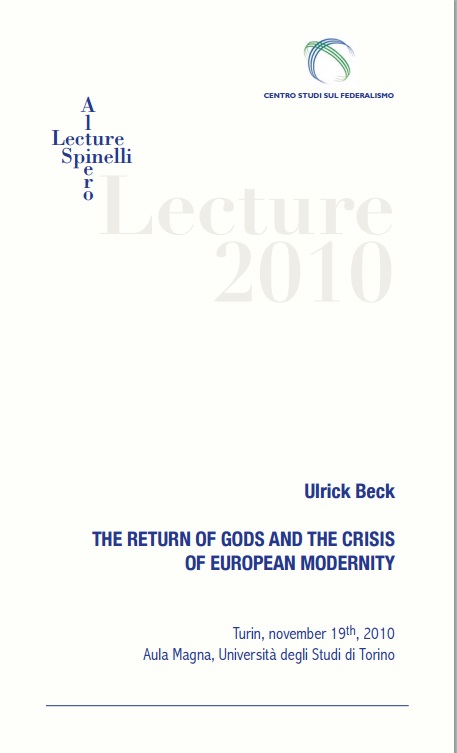 Author: Ulrich Beck
Publisher: Turin, Centre for Studies on Federalism
Year: 2010

Download Lecture



Professor for Sociology at the University of Munich, and was the British Journal of Sociology LSE Centennial Professor in the Department of Sociology since 1997. He received Honorary Doctorates from several European universities. Professor Beck was editor of Soziale Welt, editor of the Edition Second Modernity at Suhrkamp. He was founding director of the research centre at the University of Munich (in cooperation with three other universities in the area), Sonderforschungsbereich - Reflexive Modernisation financed from 1999 to 2009 by the DFG (German Research Society). In 2005, he was offered a chair in Sociology from Cambridge University but declined in order to continue his work at both the University of Munich and the LSE. Professor Beck's teaching concentrated on modernisation theory, sociology of risk, transformation of work and social inequalities. At LSE, he run a graduate seminar on aspects of contemporary social theory for both MSc and research students. He wrote a book on World at Risk (climate change, terrorism, financial crisis), which summarizes his theoretical, empirical, and political engagement in this field for many years. His research activities included a long-term empirical study of the sociological and political implications of 'reflexive modernization', which explores the complexities and uncertainties of the process of transformation from first to second modernity. Specifically he is working on Unpacking cosmopolitanism for the social sciences: a research agenda.


Selected Publications
A God of One's Own (2010)
World at Risk (2008)
Cosmopolitan Europe (with E. Grande) (2007)
Cosmopolitan vision (2006)
Power in the Global Age (2005)
Brave New World of Work (2000)

Professor Beck's books have been translated into more than 30 languages. He regularly publishes essays in the major national newspapers in Europe.